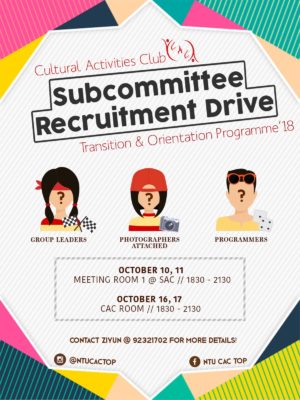 Sub-Committee Recruitment Drive
16th and 17th October 2017, 6.30pm to 9.30pm @ SAC CAC Room
Recruiting: Group Leaders, Programmers and Photographers Attached
Seniors who are currently on exchange are free to email us too to find out how you can still be part of the CAC TOP'18 Subcommittee! Email us with the role you are interested in and we'll get in touch with you!
Transition & Orientation Programme
Details for TOP 2018 has yet to be decided; do check back this space for more information to be uploaded! Online registration opens in June 2018, see you then!