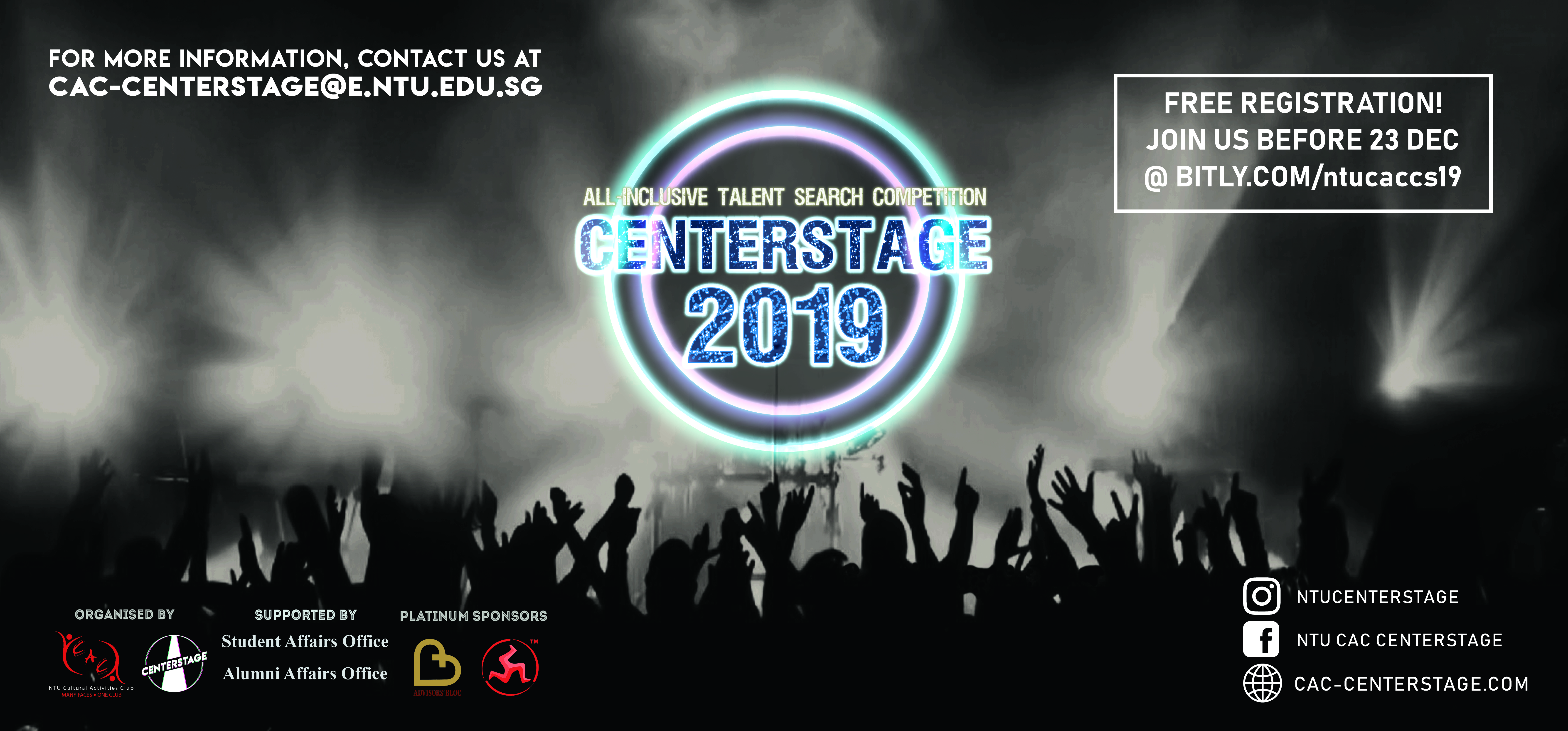 ABOUT
Organized by NTU Cultural Activities Club (CAC), CenterStage 2019 is back for a second year as a campus-wide all-inclusive talent search competition, seeking to unearth hidden talents amongst the NTU community by providing them with an accessible platform to showcase their talents on a professional stage. CenterStage allows contestants to perform and showcase any form of talent, from dance and music, to even unconventional talents such as cheer and magic.
Given the diverse pool of talents within the NTU community, CenterStage prides itself as a talent search competition that does not restrict its participants from showcasing any form of talent, ranging from music and dance, to even unconventional talents such as Cheer and Magic! Participants can compete solo or as a group and fight for the top spot. Together with votes from a live audience, these acts will be judged by a panel of selected judges from various fields of expertise based on key judging criteria such as showmanship, stage presence, entertainment value and originality rather than technical expertise, paving the way for a whole variety of performances on an even and level playing ground.
Furthermore, there will be opportunities for Semi-Finalists to attend free selected crash course skills workshops hosted by professionals to provide exposure and improve their performances for the Semi-Finals.
With attractive prizes worth up to $1000 up for grabs, sign up now atbitly.com/ntucaccs19.
There are two ways to audition. You can submit a video of your audition or come down in person during our Closed Doors Campus Auditions on 9 November 2018. What's more, registration is FREE!
Check out our Facebook page at NTU CAC CenterStage and follow our Instagram @ntucenterstage for more information and updates. Feel free to drop an email at cac-centerstage@e.ntu.edu.sg for further queries.
Registration closes on 23 December 2018.
CENTERSTAGE 2019 SEMI FINALS
NTU CAC CenterStage 2019 Semi Finals will be held on 24th January 2019.
Further information will be released on a later date.
CENTERSTAGE 2019 GRAND FINALS
NTU CAC CenterStage 2019 Grand Finals will be held on the 17th March, 6 pm – 9:30pm at Nanyang Auditorium. 
Expect an evening of captivating and enthralling performances from NTU's finest talents with acts ranging from singing, dancing, magic, bands to even yo-yo performances! Watch them as they battle it out for the Grand Prize and have a hand at deciding your favourite contestant via live on-site voting!
Tickets may be purchased at http://cac-centerstage.com/ticketing and are priced at $10.
Further information will be released on a later date.