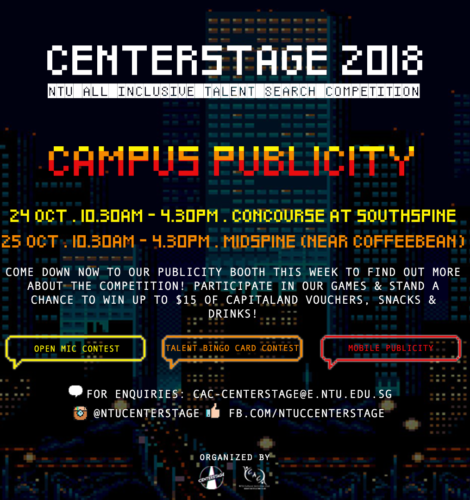 About
A brand-new initiative organized by NTU Cultural Activities Club, CenterStage 2018 is a campus wide talent search competition that seeks to unearth hidden talents amongst the NTU community by providing them an accessible platform to showcase their talents on a professional stage.
Given the diverse pool of talents within the NTU community, CenterStage prides itself as a talent search competition that does not restrict its participants to showcasing talents within set categories such as 'music' and 'dance'. Participants are able to compete solo or as a group and fight for the top spot by freely performing any 'talent' they desire. Together with votes from a live audience, these acts will be judged by a panel of selected judges from various fields of expertise based on key judging criteria such as showmanship, stage presence, entertainment value and originality rather than technical ability and skill level of the talent itself to give the different variety of performances an even and level playing ground.
In CenterStage 2018, participants can also stand a chance to win attractive prizes worth more than $1000!
Registration
Registration will begin by late October 2017. Participation is free and interested contestants can connect with our social media pages to stay informed of any latest updates.
Campus Publicity
CenterStage will be having its first publicity event on 24th October 2017 at South Spine and 25th October 2017 at the mid spine area.
All are welcomed to head down and participate in our booth activities and stand a chance to win attractive prizes! The organizing committee will also be on site to assist you on any queries with regards to CenterStage 2018.